Since i last wrote here??…. Time flies in this place and its just been very very busy what with everything we do here but that is no excuse! Its time to allow time for blogging, newslettering, facebooking, tweeting oh and some work too running this place…
I'm at a big social media seminar in Portland this week where the secrets of how to do all this and do it better, i hope will be explained. In fact Flyte Media running the seminar love the book "social media, an hour a day"! Which hour would you like? 24th? 25th? 26th? LOL
Anyway, thats enough of all that, whats been going on here since i last blogged…
Well we have a fantastic Facebook fan page right here that really seems to of taken on a life of its own… 242 fans and counting!! Whoohoo! Click the link, then click "become a fan" and keep up to date with all that we're up to. Lots of pics and soon to have video too.
We've started tweeting on Twitter and i think when i get back from the seminar i'll know more to get that started properly. Heres the link  Twitter and search for BrewsterInn and thats where you'll find us
Laura our guest "that never left" from CT has been up to redo 2 more rooms. The Hideaway and Fern rooms have now changed and the Hideaway looks great.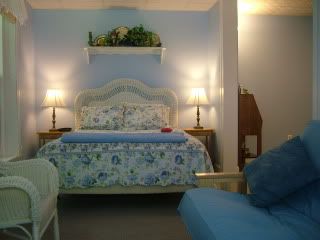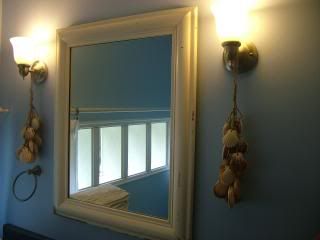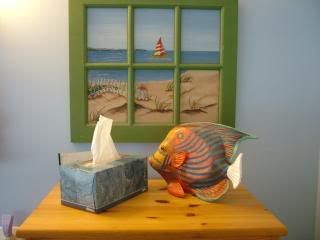 Its our seaside theme and looks so much better than how it used to look. Its part of the old 3 car garage.
The Fern room (our handicapped accessible room) is still being finished but already looks better. When we get the official pics, i'll post them here.
Next on Lauras list and starting tomorrow (21/9) is the Game room, one of the big wood paneled rooms is going to be upgraded and have additions. The rooms a great room but we're just going to make it better with pics to follow soon.
Outside the garden has been worked on a lot this summer. Its changed so much. All the pics and info are on our Facebook fan page but heres a few for a taster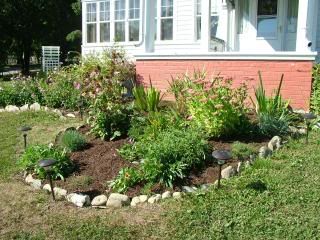 The 2 big trees at the back in the pic  below will be coming down in a week or so by an arborist. Both the trees have turkey tail fungus and big splits in them so its time to bring them down before they come down on their own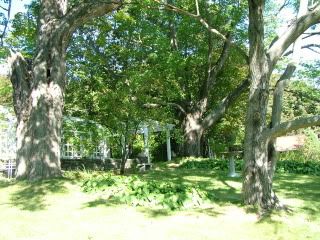 And the bark mulch that we'll have when we chip up as much of these 2 trees as we can, as well as being used for landscaping will be put under under the 2 trees below at one of the main entrances. Combine that with a new and fancy postbox and maybe a nice seat under the trees and it will look great!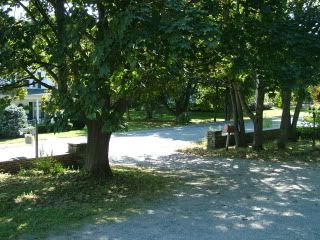 We also in 2010 plan to start to bring the lilac hedges back to the Brewster Inn from when the Governor lived here. Thats one thing that a lot of people that used to live in the town that come and stay say, that they always used to be able to smell the lilacs round town, well we plan  for that to happen once again.
Business has been excellent again this year and each year just seems to get better and better. So many guests keep coming back along with new guests and it really does make it all worthwhile. The house will soon be pretty much repaired throughout hopefully by the year  end and when the trains running again round the walk thru conservatory, the house is fixed! Until we have the next idea anyway… like the best ways to heat this place in the winter which we're pondering right now. Thinking of zoning all the rooms with their own thermostats as we've had enough of the system in its present form where you have to heat the whole 8000 sq ft even if you just have 3 rooms sold
Till next time!