Almost at the end of our trip and its time for the big event. The Nascar race weekend at Dover Delaware. Our friends Tammy and Casie, Judith and me headed down from Maine for the race weekend. We were looking forward very much to  it and whatever else would happen to us with regard to Richard Childress Racing whilst we were there.
 We arrived at the track on  Saturday morning. I had instructions to go to the Nascar credentials truck to get the pit passes for all of us but they never had them so they directed us halfway round the speedway to a gate where we would have to give our names so that we could go in past the grandstands, cross the bridge over the track and get into the infield. This we did and we managed to talk our way past 2 security gates to get right down by pit lane. We were looking for a red single story building that was where we would have to show ID and they would get the PR guy from the 07 team to come out with our passes. 30mins later and whooohoooo we have the passes!!
So much happened to us over the next 2 days as we utilised our "hot" pit passes to the full. In Nascar terms "Hot" means "access all areas" and thats just what we did. It would take a long time to write half of it down here, so with words and pictures i'll give you a feel for it for now.
Saturday was spent in the pits all morning until the Busch series race in the afternoon. We took plenty of photos of cars and people coming and  going all round us whilst practise and qualifying for the races was in progress
Kevin Harvick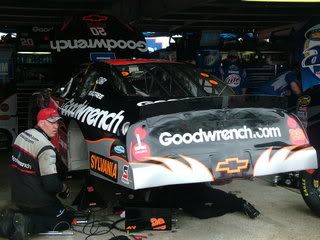 Jimmy Johnson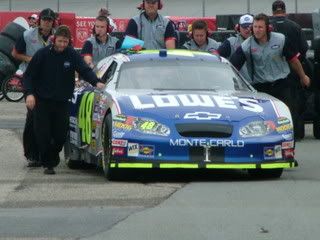 Ryan Newman
Mark Martin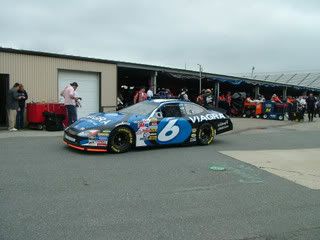 Kurt Busch
Tony Stewart
Dale Earnhardt Jnr
Judith met this guy…
Yeah, its Richard Petty and during our time at the track Judith wandered off. 5 minutes later she reappears and said "I got an autograph" to which i replied "Great! who of?"
"I don't know" she said. "There was this other guy having his pit pass signed so i thought i'd get mine done too"
"Ok" i replied "where is he?" And Judith pointed to the man in the hat. None other than Richard Petty! LOL
A bit later on  we're still watching what was happening in pit lane and there was a bit of a crowd gathering. On closer investigation we see Jeff Gordon surrounded by "his people" and about 10 yards away we see a tall guy surrounded by "people" too. Both groups get closer and then the 2 men go to each other,  shake hands and start walking slowly along pit lane talking like they've known each other all their lives. Turns out the other guy was the quarterback for the Philidelphia Eagles NFL team and this was a staged photocall.
Heres some more photos of the pit lane area this time from Sunday
The gas tanks they use are so much bigger than they seem on tv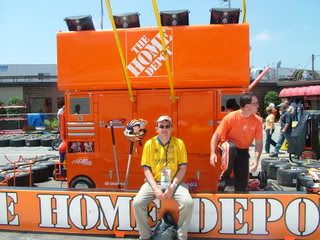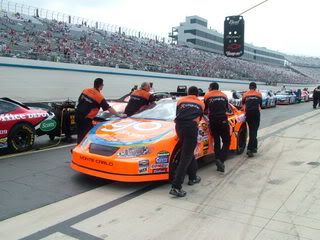 And then during the pre race stuff, it was time for Nascar to interview me by Kevin Harvicks car for part of the "Nascar Nation" tv programme.The lady that interviewed me was tall at about 6′ and she had a cold that day too. This was all in preperation for the interview a few minutes later that was going to be done for tv with me and RCR owner Richard Childress. Heres some pictures from the interview session
Tammy, Judith, Jeff Burton (31 car) and me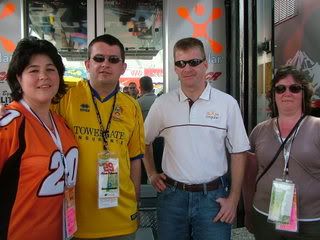 Judith and me with Richard Childress. He was a really nice down to earth man as well.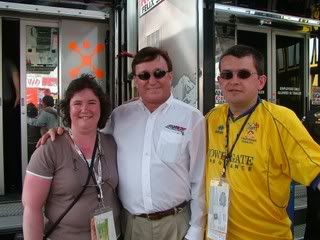 Tammy, Richard and me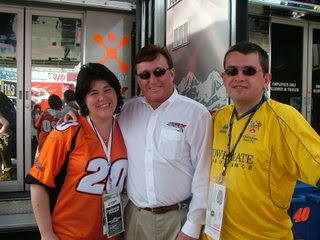 After the pit stops during a race the team members that work on filling the car with fuel each time then use a trolley to take 2 of the empty gas tanks down to a main filling area operated by Sunoco who supply the fuel for Nascar where they have to leave the empty tanks on the trolley and whilst they walk to the other end of the walkway, the Sunoco employees then fill the tanks before handing them back to the race team members who take them back to their own particular pit box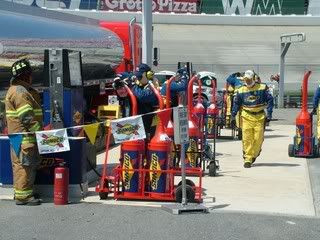 As the race started in 100+ degree heat we were up in victory lane watching what was happening. Victory lane might be where the winning car goes at the end of the race, but at the start its where all the unused race tyres are stored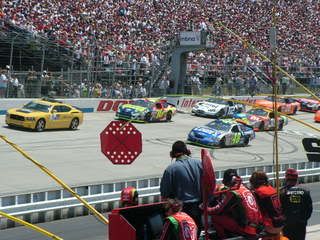 Watching the 31 team during pit stops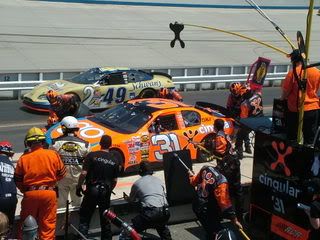 It gets a bit crowded in pit lane during the race
And people can get injured
The race was won by Greg Biffle with the 16 "National Guard" car. The crewman above is one of his. Whilst i was up in victory lane during the race, the guy from the National Guard that was in charge of sponsorship for the 16 team came up  to stand by me and tripped as he reached the last couple of steps. We got talking and he asked about our trip. At the end of the chat he gave me his card and told me to get in touch when we got home which we did. About 5 weeks after we got home we had a package arrive from the National Guard with a t-shirt and signed diecast of the race winning car!
That was pretty much the end of the trip and at this time we realised we enjoyed being in America and it was while we were driving back to Dulles airport in Washington that we made the decison to try and make it to America to live and work and so the next stage of the story starts…