After leaving Perth we had a days drive to go around the south side of Montreal to Sherbrooke and then crossed the border back in to Maine at what seemed like a very quiet point. We hadn't seen a car in ages as we approached the border crossing and as we drove right up to it a US border control guy (that looked around 70 years old) appeared and gestured for us to stop.
Here was complete car check number 2. Just like when we went into Canada this guy wanted everything out of the car as well, keeping us out of his view as he checked everything we had in the car. He couldn't quite figure out why we had just spent 3 days in Canada no matter how many times we explained to him that we just thought the drive would be more pleasant going via Toronto than Cleveland but we don't think he believed us. After an hour of checking us all out he decided that we were ok to travel on, gave us a guidebook on Maine and let us carry on our way to Belgrade Lakes.
Our destination here was Yeaton Farm Inn. Its a very historic property built in 1826 and run by a lady thats become a good friend of ours over time called Connie Parker. Shes a former art director thats worked in New York and Hollywood and after so many years of that life decided one day that she wanted to escape out to the country. Connies  helped us a lot to not only make it to Maine but also to offer advice and help now that we're here too. If you want peace and quiet with no TV then this is another good place to be.
From here we headed to Bar Harbor and Arcadia National Park for a couple of days. This area is very pretty. Interesting places and things to see and do and the National Park is wonderful for sight seeing and walking. Then we took a  scenic drive down to Portland following  Route 1 most of the way. We stayed there over night before carrying on our journey to the town of Waterboro to stay with friends of ours for a week before we all set off to Dover Delaware for a weekend of Nascar racing prior to starting our journey back home to England
 We were staying with our friend Tammy, her husband Nelson and their teenage daughters Casie and Alicia. In this photo are the 3 ladies having lunch with us at Sarges Nascar themed bar and grill in Saco ME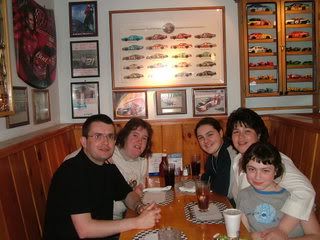 Heres just a few photos that we took from around the Portland area.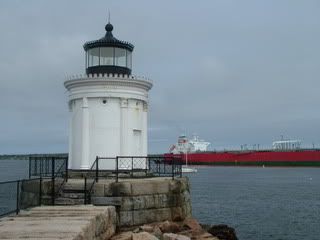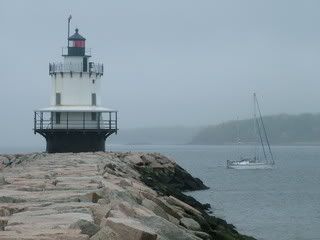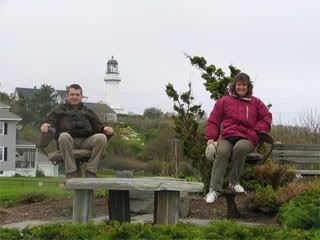 "Lenny" the chocolate moose. 1700lb of the finest chocolate too!
Whilst we stayed with Tammy, we spent the weekend with them at their lakeside camp. We had a great time and i even got taught by Casie and Alicia how to fish!
Heres the proof. I know its just a "tiddler" but its a fish!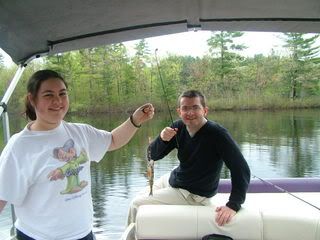 We had a bit of a "moment" with a box of Oreo cookies. Theres me, Judith, Tammy, Casie and Alicia sat around the dinner table. Tammy and her girls are dunking the Oreos into a glass of milk and suggest that i should do the same. I decline their most generous offer to dunk in their milk as i'm a firm believer that cookies (or biscuits as we say) should be eaten dry and not soaking in cold milk! Then they suggested to me a 2nd time i really should give it a try to which i again politely declined the offer.

Tammy however wasn't taking "no" for an answer and she grabbed my hand which was holding a dry Oreo, pulled me towards the glass of milk and thrust my hand with Oreo still attached into the milk as she shouted "Just dunk the damn cookie!!!"
She drowned my hand and then demanded that i eat the now soaking wet milky cookie.
I had a little nibble and it tasted awful! And to roars of laughter i chucked the half eaten soaking wet cookie back on the plate on the table.

Next stop Nascar at Dover