On leaving Chicago we were heading for a 3 day trip through Canada to get to our last major stop off point of Maine. We decided that heading to Maine via Toronto was a nicer and more scenic option that going via Cleeveland Ohio. (No ones told us we made a mistake yet)

First thing though is when you've set your watch to Central Time and your heading to a lunch date at a certain time back in Eastern Time, be sure to remember the time difference! Luckily we got hold of the people we were meeting in plenty of time  but that was our first experience of the different time zones in the US.
 The next morning we arrived in  Port Huron where the border crossing was situated. It was wet and dull when we arrived at the control point at the other end of the bridge that spans the water seperating USA from Canada.
We were the only car at the crossing and were parked outside a kiosk with a tinted glass screen. There was  someone behind it as we could see them moving although they seemed in no hurry to want to open the window. After about 5mins a young guy looking very official opened the window and wanted to know why we were  crossing into Canada. We told him and he proceeded to ask for our passports. He questioned us on how long we'd been in the US and why we'd traveled as far as we had whilst we'd been there. He never smiled and his questioning was blunt and to the point. All of a sudden with me in mid sentance replying to a particular question that he asked, he just shut the window. Then a couple of minutes later he opened it again and told us to park the car in a bay a little further down the road as we had apparantly been randomly selected for a car search. Well theres a surprise
we were the only car there. We drove to the parking bay as asked where we then had 2 more officials with guns come to the car, asked us to get out and stand about 20 yards from the car. The one official came over to us and said that our car was going to be searched and did we have anything that we wanted to tell them. We told them which bag had all our laundry in that needed washing and we told them where we were headed to and then they started searching…and searching and searching right through the car. Everything came out including the laundry where they opened the bag and tipped it up dumping it all on the floor before they used a stick to poke through it. They went through all our cases and bags, through all our printed pages of itinery notes and then  proceeded to check all around the car with our stuff lying there. Each time we tried to explain anything to them about a certain item they were looking at or when we wanted to ask them a question they would just tell us to stand back and if they wanted to know anything then they would ask. The whole inspection lasted around 35mins and at the end they came across to us saying that we would be allowed into Canada and that we would have to put everything back into the car ourselves before they walked off. What a great welcome! We reloaded our car including the laundry bag and carried on with our journey toward Toronto having to get used to watching the kph section on the speedo rather than mph.
We were heading to Toronto during a public holiday and luckily for us all the people had left the city for the weekend and we pretty much had the place to ourselves. We had a great time going for a guided tour around the Toronto Skydome which amongst other things is the home stadium for baseball team the Toronto Blue Jays and where the guide kept walking backwards whilst talking so as to keep an eye on everyone making sure they were all keeping together. Its a great tour too, goes on for an hour or so and you get to see all the sections of importance like the hospitality boxes, changing rooms and media section etc. There is a hotel built into part of  the Skydome with rooms that overlook the pitch and if you want these rooms whilst theres a game on you have to pay extra or for some events such as concerts there is a large screen put up in front of the rooms so you can't actually see whats going on. The Skydome is now known as the Rogers Centre after a major communications provider in Canada.
After the Skydome we went across the road to the CN Tower. Heres a picture of the skyline that includes both buildings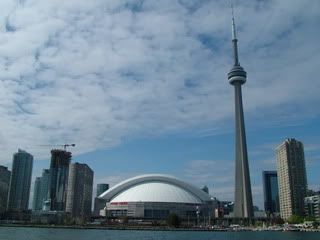 The CN Tower is the tallest building in Canada at a height of 1,815ft. Heres the view looking down from the glass floor which is at a height of 1,122 ft and also looking from ground level back up towards the glass floor from the outside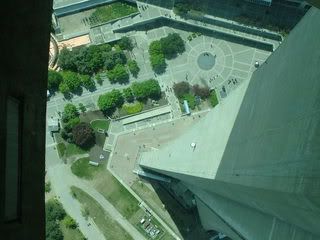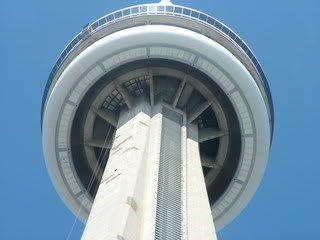 To finish the day we took a boat trip out into Toronto Inner Harbour which included a trip round the Toronto Islands that allowed more great views of the Toronto skyline such as the picture below
The next day before our journey on towards Maine we went for a visit to the Canadian Motorsports Hall of Fame. Its a great museum with plenty of racing cars as exhibits and very informative. Certainly worth a visit if your ever up near Toronto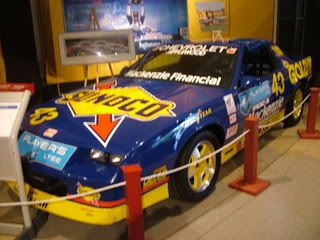 After a great couple of hours spent at the museum we started on towards a town called Perth which was going to be our overnight stop for the night. We picked Perth because it was not too far from Montreal. The next day though we would need an early start as we'd be driving all the way from Perth onto Belgrade in Maine. This part of the journey was also unique for one other thing. It was the first time that whilst driving on the "other side of the road" that i'd actually crossed a junction onto the wrong side. Luckily for us it was a section of road that was leading to a new retail development  and there were hardly any cars around so i was able to reverse back the 10yards or so back into the correct lane very easily. One of the things we always need to do when driving here is when we get to a junction in the road is to always check to see where our entry point is at the junction for the section of road that we're headed towards. You always have to be aware of where you are and what your doing at all times on the road.
Perth was a very pleasant town, small with a very "country" style. Unknown to us till we saw the sculpture it was also home to a very famous "showjumping" horse called "Big Ben" that had been one of the most successful ever in world showjumping competitions and ridden for years by Perth resident Ian Millar. Heres what Wikipedia says about Big Ben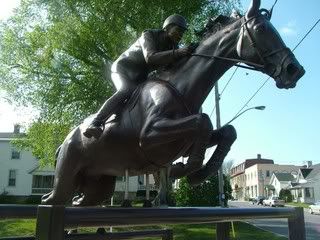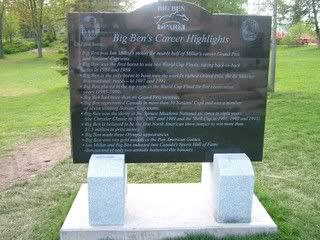 And then it was time to cross back into the USA at one of those little dirt track road crossing points in the forests. You know the ones where you don't see another car for ages and then you get to the crossing point only to find a Homeland Security man there with a gun thats old enough to be your grandfather…
To be continued