Chicago has to be the biggest city we've ever driven past. It just kept going for ages as we traveled up I294 heading towards Libertyville about 40miles north of Chicago where we were staying with friends for a couple of days before carrying on our journey into Canada.
We were staying up close to the METRA train network that covers Chicago and surrounding areas and for an hour ride into the centre of Chicago it was the pricey sum of about $6 each way!

OMG you can't even get on a train for that cost in UK let alone go anywhere.
Double decker trains! The last time i was any of these was in Amsterdam Holland. People have complained for years about overcrowding on the trains in the UK and why can't they go with double deckers there.. the bridges are too low thats why
We walked the short distance to the station and whilst looking for a ticket machine were surprised that there wasn't one. We got onto the platform where the train in the photos was sat. We had no idea which way it was  headed as there was  no info anywhere. We started to walk down the platform expecting to find a door open so we could climb aboard but as we kept walking trying various doors there were none that would open for us. Trains in the US are a lot longer than the ones in UK and as we got to the end of the train we still had found no way of getting on. Come to think of it, we didn't even know which was the front end as there were the exact same engines at both ends.
So we walked all the way back up the platform to the other end again and as we reached the engine a door opened and this fella steped out eating his breakfast. Turns out he was the conductor and it was breakfast time before they took the train back into Chicago and whilst still eating he proceeded to open the next carriage for us so we could get onboard.
We got into Grand Central Station and it was time to explore. Now Brits are a little bit unique in that we don't like to drive everywhere, we like to walk! (Fast forwarding to present day 2007… thats something that people here in Dexter have noticed, we walk everywhere and that includes the rather steep hill that leads up the road to where our house is)
We had a very interesting time walking to all parts of central Chicago where we had a good look round the Shedd Aquarium, the Museum of Science and Industry and Navy Pier. We wanted to go up Sears Tower and see Chicago from the tallest building in the Western Hemisphere but the queues were rather long and so we decided to take the easier and quicker alternative and go up the John Hancock Tower as when your up to the 94th floor there who cares what the views like from the observation deck in Sears Tower that might be an additional 12 floors up but i bet the Chicago skyline looks no different at all.
 Heres some pictures
Sears Tower from the John Hancock Center Observatory Deck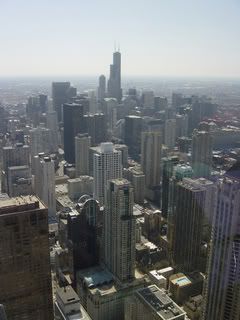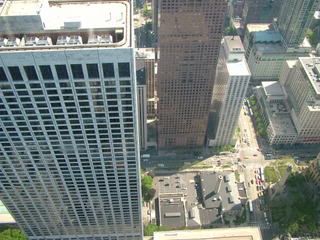 The view is amazing! You can see 40 – 50 miles and the States of Michigan, Indiana, Illinois and Wisconsin on a clear day
Its only fair that i show some pics of our 1st day there too and you'll see why we never ventured skyward that day..it still looks pretty in a funny kind of way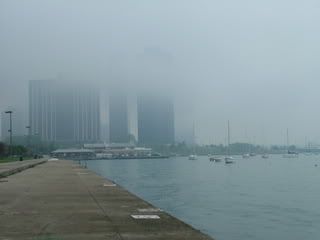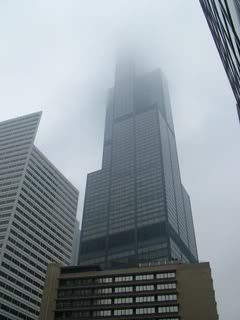 Whilst in Chicago we had a very pleasant trip on a riverboat operated by Shoreline Sightseeing that followed the river from Navy Pier right into the centre of Chicago heading in between the skyscrapers.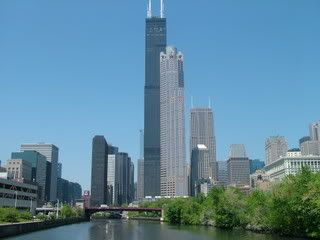 Chicago was fun and our 2 days there were now up. Time to head on and aim for Canada