Back in 2004, Judith and I had discussed in depth about trying to move to America, buying an Inn and becoming Innkeepers. We'd stayed in Inns before and thought "we can do that". We'd looked at what was required to attempt to get visas, but on reading the list of "rules and regulations" it seemed an impossible task so we gave up on the idea. Afterall we're not famous rock stars, soccer players, brain surgeons or anything in particular really, we're just Mark and Judith, 2 very normal people doing normal jobs, living in a normal 4 bed house earning normal money. (Equal to around $35k each per year). What we did do was start the planning of a major holiday to the US that would last for 4 weeks. In that time we were going to travel through something like 15 States and part of Canada meeting up with friends that we'd met via Nascar forums, taking in a couple of races at Richmond and Dover and having a pretty good time.
What we never told anyone was we were also trying to get a feel for what living in the US would be like hence we were there for a month, and by traveling through so many States we were hoping to find the one State that we wanted to try and settle in if we were going to make a real attempt to get visas this year and so on May 9th 2005 we flew out of Manchester England and into Washington Dulles.
We arrived in Washington and headed straight for the Alamo car hire. Its time to start driving on the other side of the road again. For those of you that read this and have never driven on the "other" side, you should really give it a go sometime and for that woman in the Blue Ford Explorer that came right up behind me blasting her horn on this quiet little road near a mall where we were heading for dinner in Gaithersburg MD as i was sat there trying to figure out the correct way to take on my 1st ever roundabout  sorry i mean "rotary"… Yeah thanks a bunch love, you should really try flying to another country, getting in a car on unfamiliar roads, driving on the opposite side of the road where everythings back to front and the opposite way round, finding your first roundabout within about 30minutes of getting in the  car and whilst you know that you need to go round the roundabout the "other" way while all this is going on your brains telling you "this really isn't a good idea you know". Then you might see and appreciate what its like for us after driving in the UK for the last 22 years.
 Talking of rotarys heres one near where we lived in a town called Swindon. Its official name is "The Magic Roundabout". Its rather good!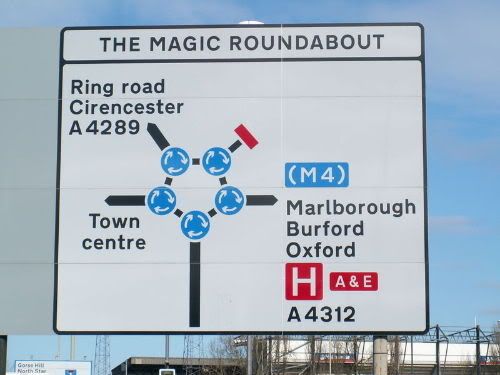 You see, its really quite simple. You just arrive at the roundabout, point in the direction you want to go, put your foot down and keep going till you reach the required exit. Don't worry about everyone else, they'll be doing the same as you.

So anyway, we're heading out of Dulles onto the Interstate heading in the general direction of Gaithersburg in "rush hour"when we come across our first road accident and the traffics backing up for a couple of miles. I'm starting to slow our red rather fancy Monte Carlo down and some bloke in the lane to my right decides he's not going to wait in the queue like everyone else. Nope, he blasts his horn, swerves across in front of us straight down onto the median (that had quite a big dip in the middle) keeping the speed up bounced his car over the median before swerving back into the lanes heading in the other direction and carrying on as if nothing had happened

Yes we did make it to our destination, had a lovely meal at our first "meet and greet" with our friend John before heading south into the night to our overnight stop in Fredericksburg VA.
Just as a side note, John asked us if we'd heard about all the problems in Washington that day. It turns out that thousands of people were evacuated out of the city centre around lunchtime as a couple of "clowns" in a very small 2 seater aircraft were flying straight for the capital and not letting on who they were each time traffic control enquired culminating in a couple of fighters being sent up to escort them down. The rumour amongst our friends was that the 2 people in the plane were none other than me and Judith "heading to America"