Mon 25 Jun 2007
Its Thursday morning, dark outside and its 5am! I should really be fast asleep still after the 21 hour day yesterday but my body has other ideas. Welcome to the world of "jetlag". If you've never been on a long flight crossing timezones you'll never of experienced it. Some people "suffer" the effects of jetlag in different ways. Me? I'm fully awake even though at the same time i feel really tired but just can't sleep. Its as though your bodies telling you "What the heck are you still doing in bed? Its 10am get up, get up!!!" Then theres the headache too. A headache that just aches and throbs till you can locate the tablets that you know are in one of the 5 pieces of luggage that you bought with you and as always are in the deepest corner of the very last case you look in. Sometimes the sciatica i get in my lower back and legs likes to make a re-appearance too making for a pretty uncomfortable time till the tablets are found and taken and i've gone off on walkabout looking for coffee.
Today we are heading to Archdale, North Carolina for our stopover as tomorrow we have one of the very best days of the entire trip.
Leaving the hotel we see a Walmart across the Interstate and decide to head in to get some bits for the drive down. This would be our first ever Walmart "experience" and one that i still remember as if it was yesterday.
The first thing about Walmart is how bland it looks from outside the store when compared to supermarkets we have in England. We actually do have Walmart over there as they've bought into one of the big supermarket chains called ASDA.
Heres a picture of one of their stores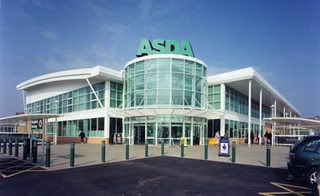 Quite nice when compared to a Walmart frontage. Inside side they're pretty much the same as to what they sell. ASDA tend to leave the products in the same place on the same shelf for more than 24hours unlike my local Walmart here that seems to want to confuse me by moving everything round before i visit each time.
Oh and then theres the Walmart "meeter and greeter". Show me just one that smiles and actually looks like they're enjoying their job. They could learn so much from the ASDA version that looks happier than if they just $1m on the lottery. Theres a lot more differences in how Walmart could learn to be more customer friendly when compared to ASDA but for now i'll leave it at that except to say that in the near future starting in Southern California Walmart is going to have real and proper competition for your shopping $$ when the largest UK supermarket chain  Tesco starts to open there in 2007. By the time you read this some stores may be open as the first one was planned for opening in  a former Albertson's store in Glassell Park, Los Angeles.
 Heres extracts of an article in one of the big UK daily newspapers "The Daily Telegraph" from a few days ago.
Tesco's format will be a convenience store called Fresh & Easy Neighbourhood Market. It will be focused on America's affluent west coast. The outlets will be roughly 10,000 sq ft in size – far smaller than its average UK stores – and will stock healthy, chilled food. The first stores will launch in Los Angeles, Las Vegas, Phoenix and San Diego around late October or early November, with 50 open by next February. There are a further 50 stores in the immediate pipeline. Of those, 30 will be in Phoenix and 14 will be in Las Vegas. Initially, the chain will be limited to California, Arizona and Nevada, although it could well go national. Around 500 stores could open in the medium term. Sales targets are not known, but the division is expected to break even by the end of the second full-year of operation.
Heres the link to the full article Tesco USA and it makes for quite an interesting read especially as in UK and Europe Tesco have stores that are the same size as Super Walmarts  but for the American venture seem to want to try something different after it would seem a great deal of research. Make no mistake though Tesco will take Walmart on and have the financial power and business stratedgy to do it over the coming years. It should prove interesting to watch.
So back to the story…
We start heading down the Interstate towards our lunch date in Henderson NC. As we head past Richmond we see signs for Richmond International Raceway and decide to stop off and see if we can talk our way into the speedway for a photo taking opportunity.
As we reach the speedway we're able to talk our way through the first 3 security areas and are directed to the front office. Now bear in mind that this is Thursday the day before the racing starts with 100,000 plus race fans arriving Friday. We use the same opening explanation that we'd used to get past the previous security gates that we were from England and we were on a NASCAR themed tour taking in a couple of races. The guy at the front desk says to hang on and goes to speak to someone else. The Richmond Chief of Police suddenly appears and with a look like
started the conversation which went like this…
Chief –  "You want to do what?"
Me, "Ummm just go into the speedway to trackside and take a few pictures. We're from England!!"
This generated another
and the Chief replied "Do you know what i just did 20mins ago?"
 "Ummm no" I replied.
Chief –  "I just did a full scale bomb sweep of the entire facility thats what i did. Do you know how long it takes to do that and you want me just to let you wander in and take pictures?"
Me –  "Well now you put it that way, perhaps its better we just leave now?"
Chief – "Why do you want to take pictures when its empty? Take them Saturday night when its full and your here"
Me –  "But it'll be full then"
Chief –  "Isn't that better"?
Me –  "No cos we wanted the pictures with it empty as you'll be able to see the size of this place better that way. Its ok, we'll leave it as we can see your busy"
Chief – "Damn right i am son. I'm real busy right now".
Me – "Its ok, we'll let you get on. Thanks for taking the time to see us though, its appreciated" and with that we turn to leave
"Wait a minute" the Chief said
We turn back round and the Chief says "How long do you need?"
 "20 minutes at most" I reply
Chief – "I must be mad and its gonnna mean i have to do another full scale bomb sweep when you've left and did i tell you how long that takes?"
Me – "Uh-huh"
Chief – "Well you've come a long way and you asked nice, so follow me and i'll take you to turn 4 but i need you to stay in that area so we can limit the extent of the next bomb sweep".
Me – "Great thanks!!"
And with that we followed the Chief out where he climbed onto his golf cart and indicated for us to follow him in our car where he took us right up to the turn 4 entrance and inside the speedway where he reminded us that we only had 20 minutes and to wait by the exit to turn 4 when we were finished so that he could escort us back out safely.
We took pictures of the empty speedway from different positions in the stands, sat a while just watching the activity around the track and then when we saw the Chief heading back over walked down from the stands to meet him. Now i have a motto "If you don't ask, you don't get" and i thought it would be fun to have our picture taken right by the safety fence and turn 4 and as the Chief was the only available person, i asked him
This got us another
and the comment "I'm the Chief of Police" to which i replied "Yes and your the only one here" followed by a cheeky smile.
"Go on then" the Chief said and with that he took the camera and went up a few rows of the stand to take our picture before coming back down and escorting us back to our car. With that we shook hands, thanked him for his time and help and headed out of the speedway to carry on our journey down the Interstate heading for lunch in Henderson for our first ever experience of a Cracker Barrel a real "must do" if you never have and after we were all finished we carried on with our journey to Archdale NC
Heres some photos of Richmond International Raceway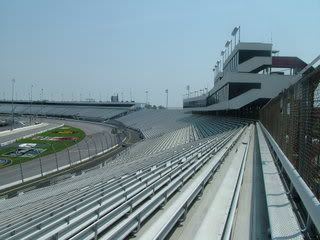 No Responses to " Nascar at Richmond "